Regular price
$69.90 USD
Sale price
$34.90 USD
Unit price
per
Sale
Sold out
30 Days Free Return & Money Back Guarantee: $2.99 in cart.
🐾 Say goodbye to furball fiascos and hello to a sleek, stylish kitty with our revolutionary Steamy Brush! Designed with your feline friend in mind, this grooming marvel takes cat care to the next level.
✨
Why Steamy Brush?
Gone are the days of wrestling with traditional brushes and battling the static that sends fur flying everywhere. The Steamy Brush harnesses the power of gentle steam to effortlessly detangle and de-shed your cat's fur, leaving them feeling pampered and looking purr-fectly groomed.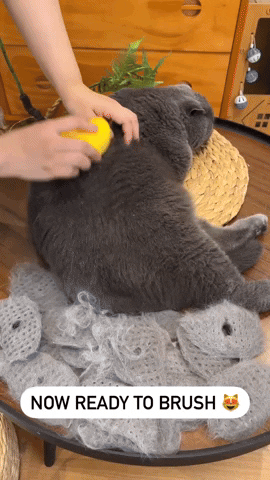 🌬️
Steamy Elegance:
With a touch of luxury, our Steamy Brush not only gets the job done but also turns grooming into a spa-like experience for your cat. The soothing steam relaxes your kitty, turning grooming sessions into moments of zen, fostering a stronger bond between you and your feline companion.
Steam Power:

 

The gentle steam technology efficiently removes tangles and minimizes shedding.
Fuss-Free Operation:

 

Easy to use and clean, making grooming a breeze for both you and your cat.
Whisper-Quiet Motor:

 

Ensures a stress-free grooming experience for even the most skittish kitties.
Safety First:

 

Designed with your pet's well-being in mind, the Steamy Brush has built-in safety features to keep your cat comfortable and secure.
🌟
Transform Grooming from Chore to Adore!
Make grooming a joy for you and your cat with the Steamy Brush. Say hello to a fur-tastic bond and goodbye to furball headaches. Order now and treat your furry friend to the grooming experience they deserve!
🐱✨ Your cat's radiant new look is just a steam away! ✨
View full details