Regular price
$89.99 USD
Sale price
$54.99 USD
Unit price
per
Sale
Sold out
30 Days Free Return & Money Back Guarantee: $2.99 in cart.
Only Few Left In Stock! Next Restock Date - October 17th, 2023
FREE SHIPPING TODAY Only!
Makes a great gift at every
occasion

.




Every girl harbors a cherished reverie of fairies, and by adorning these resplendent wings in motion, their dreams shall be brought to life!







Propelled by delicate mechanisms, these ethereal wings of enchantment possess the ability to gracefully flutter and glide, mirroring the flight of actual butterfly wings.


Possessing this radiant pair of butterfly wings, you shall metamorphose into a whimsical sprite within the darkened expanse of night!
As you prepare these wings for your child, her eyes will surely sparkle with delight. She will adore them and might eagerly don them to showcase their splendor to others. In the midst of a crowd, she will radiate as the most dazzling focal point, capturing everyone's attention.

 
Colourful Wings 
The DIY wings can reflect different shiny color in the sun.

From various angles, the colors shift and dance, conjuring a mesmerizing spectacle.

At times, they shimmer in shades of pink, then cascade into hues of blue, green, and even orange, evoking an enchanting display.

They dance with your every movement, kissed by the gentle caress of sunlight, revealing a myriad of ever-changing colors, leaving behind timeless and exquisite memories for every special occasion.
Adjustable size
Shoulder strap length: 34'' - 60''
Adults and children can also wear it
You can adjust the shoulder straps according to your shoulder width.
Battery Powered
Butterfly wings require 4*AA batteries.
Please note: Batteries are NOT included in the package.
Fashionable Design
These magnificent butterfly wings are meticulously handcrafted from resilient PVC and plastic, boasting a surface that is flawlessly smooth and lustrous.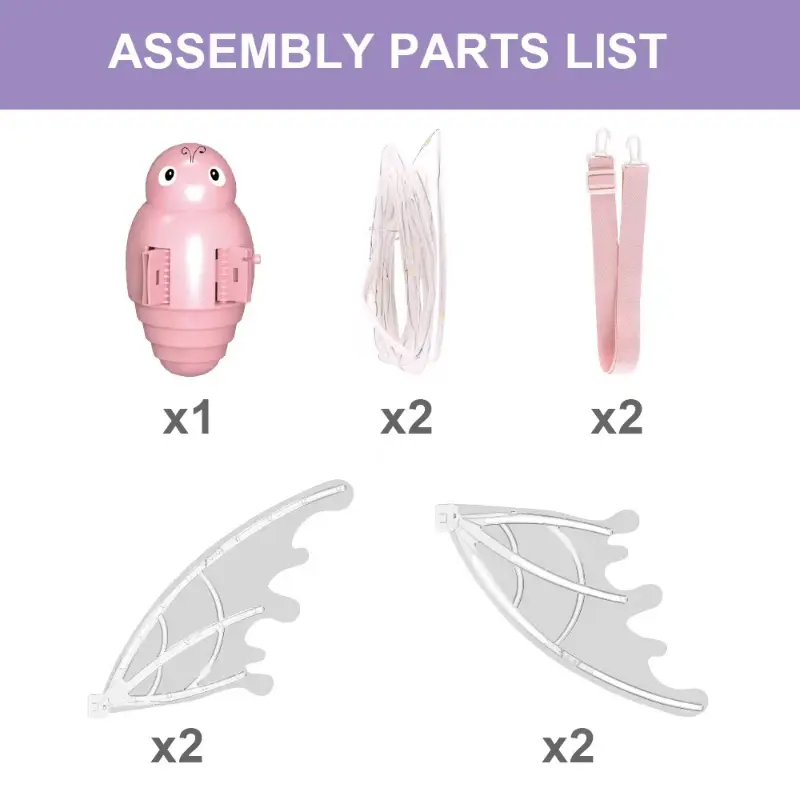 Packing List
4 pcs Wing Slice
4 pcs Wing Bracket
12 pcs Short bracket
2 pcs Extension Bracket
2 pcs LED Light Straps
2 pcs Shoulder Straps
1 pcs Battery Holder
1 pcs Instruction
Please note:
Batteries are NOT included in the package. 
Electric DIY Fairy Wings
It is the ultimate gift for daughters, sisters, friends, and cherished family members alike.

Ideal for Halloween, birthday celebrations, stage performances, photography sessions, and beyond.

Let these wings accompany you through each precious moment
Only Few Left In Stock! Next Restock Date - October 17th, 2023
View full details