Regular price
$40.00 USD
Sale price
$29.99 USD
Unit price
per
Sale
Sold out
Pedal into the World of Creativity - Craft Your Own Bicycle Model!
Memorable Piece: Once completed, the DIY Bicycle Model becomes a cherished keepsake, representing time spent together, dedication and creativity.

Family Bonding session: Engage in a fun and rewarding activity with your loved ones as you assemble the bicycle model together. It's a perfect way to strengthen family bonds and create lasting memories.
MEANINGFUL SOUVENIR : Surprise loved ones with a truly unique gift. The DIY Bicycle Model is perfect for hobbyists, art enthusiasts, and anyone who appreciates the beauty of handmade craftsmanship.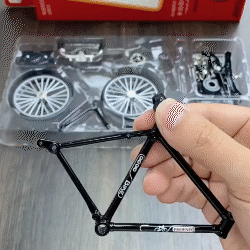 -Realistic Design: The intricate details of our DIY Bicycle Model make it an exquisite work of art that captures the essence of a real bicycle. It's a true delight for enthusiasts and collectors alike.
-Focus and Concentration: Immerse yourself in the assembly process and experience the meditative benefits of focusing on a single task. The act of assembling the model engages both your hands and your mind, fostering a sense of harmony and balance.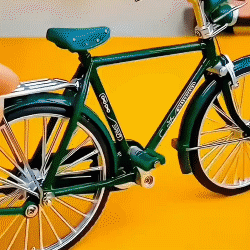 -Improve Artistic Skills: Enhance your craftsmanship and artistic skills as you carefully assemble each component of the model.
-Great for Decoration: After completion, proudly display your DIY Bicycle Model and enjoy the admiration it receives from friends and family. Whether you choose to display it on a shelf, desk, or as a centrepiece, this model adds a touch of elegance and charm to any room or space.

Unleash creative spirit and embark on a journey of craftsmanship with our DIY Bicycle Model. It's not just a model, it's an opportunity to ignite your imagination, enhance your artistic skills, and create beautiful memories. Order now and let your creativity soar!
Features

-Colour: Black
-Material: Alloy
-Size:17.00X10.50X5.50cm/6.68X4.13X2.16in
-51 Pcs included
-Note: Need to be assembled by the Customer.
Package Size: 220 x 80 x 130 mm
View full details